SAN DIEGO (September 9, 2020): Hartley LLP attorney Fatima Brizuela was recognized by local business paper The Daily Transcript as one of the "Top 40 Under 40" for 2020.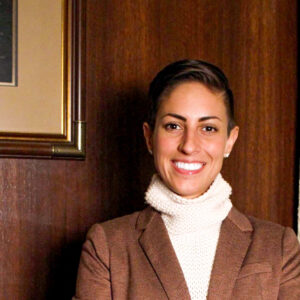 The Daily Transcript made its selection after considering rising stars in real estate, construction, law, financial services, government, nonprofit organizations, and individual business owner/operators" and looked to honor "San Diego's top young professionals who have made an impact on their company/organization, industry and community."
In her national practice, Brizuela represents classes of individuals and businesses harmed by anticompetitive conduct. Her work centers on antitrust, unfair competition, and consumer protection litigation with a focus on complex class action matters involving price-fixing, illegal tying, and unlawful monopolization.
"Without a doubt, Fatima is one of San Diego's rising stars, with unmatched passion and a skill level typically only seen in much more senior attorneys," said Jason Hartley, Founder of Hartley LLP. "I am confident that she will continue to be someone to watch as her career continues to grow and evolve."
Brizuela maintains a commendably active pro bono practice and has successfully represented refugees seeking asylum over the past few years as a volunteer for Casa Cornelia. Most recently, Fatima was recognized for her successful year and half effort to secure asylum for her clients, a Cuban emergency room doctor and her daughter. The family fled Cuba after years of political pressure and persecution due to their refusal to join the Communist Party and is now free to begin their new life in the United States. She was recently recognized in the inaugural "Best Lawyers: Ones to Watch" publication.
About Hartley LLP
Hartley LLP represents commercial plaintiffs on a contingency basis and victims of anticompetitive conduct like price fixing agreements, unfair competition, tying agreements and monopolization. Its attorneys have worked to recover hundreds of millions of dollars in damages for its clients. For more information about our practice, visit https://hartleyllp.com/results/.