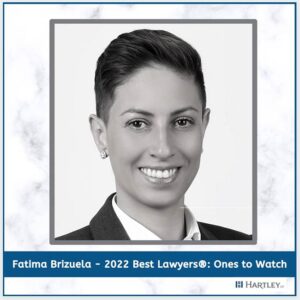 SAN DIEGO (August 19, 2021): Hartley LLP attorney Fatima Brizuela was recognized in the 2022 edition of Best Lawyers®: Ones to Watch in the practice area category "Mass Tort Litigation / Class Actions – Plaintiffs."
Best Lawyers® Ones to Watch recognizes lawyers who are earlier in their careers for their outstanding professional excellence in private practice in the United States and is based on a peer-review process. Lawyers recognized in Best Lawyers®: Ones to Watch are divided by geographic region and practice areas. They are reviewed by their peers on the basis of professional expertise and undergo an authentication process to make sure they are in current practice and in good standing.
In her national practice, Brizuela represents classes of individuals and businesses harmed by anticompetitive conduct. Her work centers on antitrust, unfair competition, and consumer protection litigation with a focus on complex class action matters involving price-fixing, illegal tying, and unlawful monopolization.
"Fatima is making a name for herself as a standout attorney, working at a level beyond her years of experience," said Jason Hartley, Founder of Hartley LLP. "This is a well-deserved recognition of her hard work, and I am confident that she will continue to earn myriad honors and accolades as her career progresses."
Brizuela is passionate about pro bono work and has successfully represented refugees seeking asylum over the past few years as a volunteer for Casa Cornelia. After a year and half working on their behalf, Brizuela was proud to secure asylum for her clients, a Cuban emergency room doctor and her daughter. The family fled Cuba after years of political pressure and persecution due to their refusal to join the Communist Party and is now free to begin their new life in the United States.
About Hartley LLP
Hartley LLP represents commercial plaintiffs on a contingency basis and victims of anticompetitive conduct like price fixing agreements, unfair competition, tying agreements and monopolization. Its attorneys have worked to recover hundreds of millions of dollars in damages for its clients. For more information about our practice, visit https://hartleyllp.com/results/.